The Northwest is a fantastic place to live. My friends and I enjoy kayaking the waters of Puget Sound. This joy has inspired me to build this web site so that I can share the places that my friends and I have paddled. Every route shown here has been paddled by us.
I hope that this web site can become a resource for other paddlers to use in exploring the Northwest.
With the fanstastic weather it's time to start thinking about kayaking!!! I know that we have some great plans for paddles this year and looking at getting at least one bucket list paddle in this year. I am way behind in putting together some trip reports and will have to start working on them soon.
Upcoming Kayaking Events:
1. Port Angeles Kayak Symposium April 17 & 18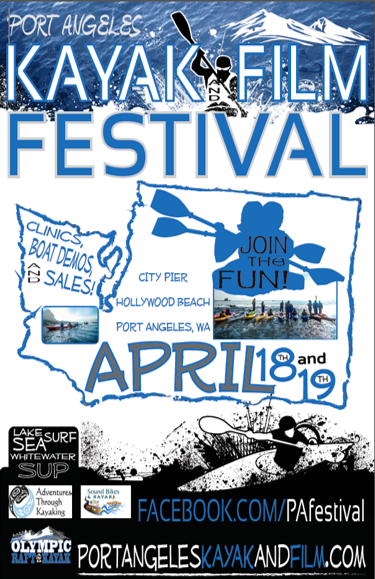 The Port Angeles Kayak Festival is happening once again on April 18th and 19th and loaded with over 25 kayak events. The kayak courses range from Intro to Sea Kayak, Surf Zone, SUP, Rock Gardening, Edging, and several more covering the entire range of kayak skills. The instructors are all well respected with extensive credentials, and include Chris Duff, Rhonda Schwab, Les and Diane Uhrich, Don Rice, Ken DeBondt and many others. Other events happening include guest speaker/films by Ken Campbell, a kayak tour and demo beach. As you know events like this are hard to come by these days and this a unique opportunity for people to take classes, demo a full range of kayaks and hang out with like minded folks. Online registration is happening right now and can be seen at www.portangeleskayakandfilm.com.
2. Northwest Paddling Festival May 8 & 9
The NW Paddling Festival, held at Lake Sammamish State Park is scheduled for May 8 & 9. Come out and help support and enjoy this kayak festival. This is great opportunity to look at a wide variety of kayaks and Stand Up Paddle (SUP) Boards and demo them. There will be equipment vendors on hand to help feed that equipment addiction that we all have. See NW Paddling Festival Web for more information. See you all there
Be sure to check the Kayaking resource menu for some great information and if you are looking for some options on Vancouver Island there are some outfitters listed there that may be a good resource for information or, if you need it, guiding services. Stay safe...be sure to plan your paddles, keep a eye on the weather, tides and the currents and you will be sure to have fun!
I am working on the web site when I have time and I am striving to make this as complete a kayak guide for Puget Sound as possible. If you have suggestions for improving any of my web pages you can contact me via E-Mail.